Can you tell us a little about yourself?
KATY: I'm from Texas. My favourite things to do here in Spain is cooking with friends, walking through Retiro park, going on hikes in the mountains around Madrid, and reading.
NICOLE: My name is Nicole Wolny and I come from Toronto, in Canada. I recently graduated with a bachelor of arts in English and French literature from the University of Toronto. I am 24 years old, I love to read- especially on a warm sunny beach. I am attracted to new places, new people, new perspectives because it helps me connect with the world around me in a deep way.
Why did you decide to come to Spain with the BEDA program?
KATY: I came to gain teaching experience, to learn Spanish and make friends from other countries around the world. So far, Spain has exceeded my expectations.
NICOLE: Two years ago I had the pleasure to visit Madrid and it was an instant connection. I decided right then and there that I will return once I finish my studies in Canada. Because I am always striving to challenge myself and to grow as a person, I decided to move to Madrid to teach English. Since I already have one year of teaching experience, I knew this would be a great opportunity to increase my communication and language skills.
How long have you been in Madrid?
KATY: I've been here 3 years now.
NICOLE: Currently I have been in Madrid for three months.
Why do you enjoy teaching?
KATY: I enjoy working with students because they challenge my thinking and help me to develop my imagination. They see the world through fresh eyes and teach me something new every day.
NICOLE: I enjoy teaching because it is demanding and a creative profession. Everyday feels like a new chance to try out a different activity, to teach children how to believe in themselves, to motivate children to gently step outside of their comfort zone because they have so much untapped potential. It is truly a pleasure to witness them discover their own talents.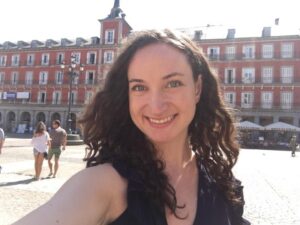 What's your favourite age group to teach and why?
KATY: I enjoy upper levels, specifically Bachillerato, because they are basically adults and I'm able to do more advanced activities with them.
NICOLE: I think my favourite age group to teach would be 5th or 6th of primary. These students are motivated and they are always eager to share their enthusiasm for learning with me. Their energy is very contagious and it reminds me that learning should be fun, dynamic and interactive. They inspire me to be better a little bit more each day.
Was it a culture shock coming to live and work in a new country?
KATY: I don't think I had much culture shock coming to Spain. I had visited Madrid before (with my choir in secondary school) and I sort of knew what to expect. However, there were aspects of Spanish culture that surprised me (for example, I didn't realize that all Spaniards were such night owls until I lived here, and I also didn't realize I would have no time for siestas during the week!)
NICOLE: Yes absolutely! It took me two months to feel settled in and accustomed to my new pace of life here in Madrid. Travelling to a new city feels like an incredible adventure that you take in order to discover more about the world. As I learned to adapt to a new environment and culture, I have learned even more things about myself.
What do you miss most about home?
KATY: I miss the familiarity of it, especially in the way things work on an administrative level. I also miss our great national parks in the USA. I miss family too, but my friends here in Madrid have become family to me.
NICOLE: I miss all my loved ones. I also miss the big bookstores back in Canada.
What aspects of Spanish culture have you really taken on board?
KATY: I've grown to love the social atmosphere of Spain. People are so vibrant and active at all times during the year and I love absorbing this energy!
NICOLE: I really love Spanish cuisine! I took a cooking course and learned how to make Spanish tortilla, Pallela and la tarta de Santiago.
Describe a typical day at La Salle.
KATY: I alternate between taking small groups of students out for conversational practice (where I reinforce grammar or topics that they are learning in class) or I'm with the whole class. I spend from 8:30 to around lunchtime doing this. I eat lunch at school on days that I stay until 5 pm. Then, after lunch 3 days a week I teach an English workshop for 1st BACH students.
NICOLE: My typical day at La Salle usually begins in the Pre-school staff room where I greet all the pre-school teachers. This is also where I prepare all my materials before beginning the day in one of the pre-school or primary classes. After completing language games and speaking exercises for two hours, there is a small break. At this time, you would usually find me outside grabbing a coffee with teachers or working silently in the pre-school staff room. After about another two hours of class, I am finished for the day and I go back home.
What would you say to your Spanish students who are thinking about going abroad to work or study?
KATY: I would say, «Go for it!» Living abroad truly broadens your outlook on life and offers invaluable opportunities to learn, grow and form new friendships that will potentially last the rest of your life.
NICOLE: To any student who silently dreams of travelling abroad one day- Listen to the whispers of your heart. Do not be afraid of what you do not know yet because the magic of life reveals itself when you embrace the uncertainties of life.